Researching the City: Mapping Imaginaries
24 jun 2020 11:26 | Urban Governance

The Honors minor entitled Researching the City: Mapping Imaginaries which started at he spring semester is successfully finalized with a the Final Summer Congress, which took place on the 5th of June 2020. This program was designed to provide fresh perspectives and a better understanding of places' images, identities and reputations. The minor is the result of 10 years of work on City Marketing in Europe and has been developed in the framework of the programme Cities & Visitors, in cooperation with the Amsterdam School of International Business, the Urban Management alliance and the Research Centre CAREM and CEDIS.
IVCF, the International Virtual Consulting Firm
This honors program started at the spring semester, and its first phase consisted of five weeks where the students had the opportunity of researching places' image, reputation and mapping the imaginary techniques.
For the second and final phase, they were expected to take part in the IVCF, the International Virtual Consulting Firm, which works in real life cases in cooperation with partners universities in Barcelona, and Paris. The idea behind it was to stimulate the learning process through a concrete experience.
The 2020 IVCF's case was: Reinventing Iconographies of Cities, Weaving Interconnectivity, Fostering Polyphony, which aimed to elaborate on a series of urban icons and imaginaries, taking into consideration their role as tokens of intertextuality and interconnectivity, while fostering polyphony.
Final Summer Congress
The findings of this work were presented during the Final Summer Congress, which took place on the 5th of June 2020. For this years' edition of IVCF congress, the minor had to rapidly adapt itself, as the COVID-19 heavily hit the world and social isolation became the only way of prevention. The physical connections were limited, which affected structure of the event; yet, it also empowered the parts involved into continuing working together, although separated by distance.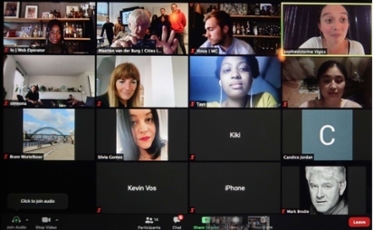 As an Honors Programme, it is only available to highly driven students who have to demonstrate their interest in a motivation letter. The minor is suitable for students of (International) Business, Economics, Marketing / Communications / Creation and Information Management, Media, Information and Communication, Aviation, Urban Planning, European Studies, Sociology, Architecture and so on. 'Kies op Maat' students and exchange students from abroad are also more than welcome. Students should have an affinity with study areas such as urban environment, internationalization, marketing and communication.
Researching the City: Mapping Imaginaries organization:
Erik Kostelijk – Associate Professor at AMSIB – AUAS Amsterdam
Jeroen Keip – Lecturer English Communication at AMSIB – AUAS Amsterdam
Maarten van der Burg – Moviemaker, Power of Images and Languages lecturer at AMSIB – AUAS Amsterdam
Núria Arbonés Aran – Programme Leader Research Groups Cities & Visitors, founder IVCF at AMSIB – CoE AUAS Amsterdam
Silvia Alves Gomes – Researching the City Minor Coordinator at AMSIB AUAS Amsterdam
Simeona Petkova – Assistant Professor Digital Marketing at AMSIB AUAS Amsterdam