Biomaterials in minor Texties
Project

The minor Textiles offers a full course from concept to product in which students apply their knowledge of Design, Branding and Management.

Loes Bogers and Iris Kloppenburg (lecturer at AMFI) were asked to develop a module on biomaterials for the AMFI minor Textiles that ran from February until July 2021.

The minor Textiles offers a full course from concept to product in which students apply their knowledge of Design, Branding and Management. Subjects covered in this minor are forecasting, innovative textiles, craft, biomaterials, digital textile design, sustainability, theory of textile, product design and communication. Students will develop an individual project, linked to form and fashion, which covers all of the aspects mentioned above. The application of the new developed fabrics in a prototype for a certain market and the communication of the project using different media are underpinned by theory; this is subject to the creativity of the student.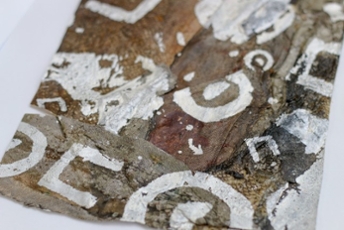 The student will individually work on a project which - research, utilizing field- and desk research - analyse and combine findings to discover new insights and creative ideas - translate a concept into innovative designs with a market relevance - be able to substantiate the ideas with theory - visualise and present new ideas and products in a coherent and inspirational way with a specific goal.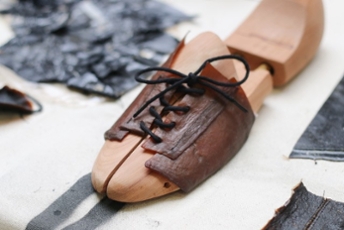 Iris and Loes introduced all students to the basics of natural dyes (textile dyes extracted from plants, insects and wood), and biomaterials such as algae-based biopolymers and vegetable leathers. Eleven students chose the biomaterials specialisation where they further explored topics such as mould-making for biofabrication, bacterial dyes, and bacterial cellulose leather alternatives, to develop their own custom materials for their projects. Students contributed swatches from their experimentation to the open source material archive, resulting wide range of colours and materials that will be added to the collection to inspire future students.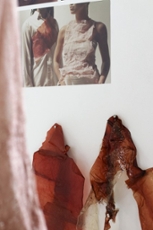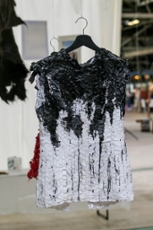 Urga van de Ven developed a proposition to use bioplastics for car interiors, Thiago Petramale crafted shoes from microbial leather, Isa Trauschke and Francis van Amstel experimented with bacteria dyes and bioplastics beading, Joey Raidt and Sophia Beckman explored combinations of felting and biomaterials to create garments. Fatima Kane presented an exciting combination of fish leather with prints, and Daria Geczi went the digital route, translating biomaterials into virtual designs for luxury fashion items. The techniques and theory provided helped students rethink the life cycle of textiles by proposing unorthodox material applications within the theme of autarky.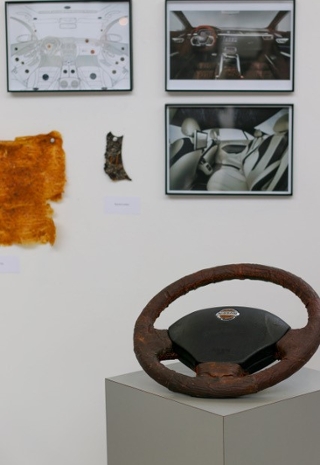 The students presented their work together at NDSM Fuse in Amsterdam, where projects from all the specialisation were showcased. An impression of the results can be found below. It was a great experience to see all these new ideas and applications emerge, and we look forward to contributing to the course again next year!