Aviation Engineering
The Aviation Academy Research Programme performs applied research related to real-life cases and problems in the business sector, with the goal of improving and innovating professional practice. We perform all of our research projects in close cooperation with industry, governmental agencies and scientific institutions or universities.
RESEARCH FOCUS
All current and future projects of the Aviation Engineering professorship fall within one overarching domain: Sustainable Aviation Operations. More specifically, our research plan focuses on the integration and application of the available, innovative materials and digital technologies and methodologies into an efficient and sustainable future aviation. A plethora of key technologies is currently available, however a lot of issues still needed to be addressed in order to eventually bring them into the shape of readily available, useful applications like inspection, diagnostic, repair and predictive capabilities and tools. Ultimate goals are the waste and disruptions minimization and the processes optimization in Aviation operations.
NEW MAINTENANCE TECHNIQUES
We are currently participating in a Dutch consortium (FIXAR ) working to develop knowledge and technology on the repair of increasingly widespread durable composite materials. Among other subjects, the Professorship and the Aviation Advanced Maintenance Technologies Studio will focus on detecting and analysing damage to composite materials and developing new repair techniques.
STUDIOS AND SCHIPHOL LIVING LAB
We will also be working to develop the new Faculty studios such as the new Maintenance and Data Studios which offer great potential for collaboration and synergy within and outside the Faculty of Technology. This knowledge can then also be applied at another initiative, the Schiphol Living Lab, which has the ambition to evolve into an international research and education centre.
PROMOTING ELECTRIC FLIGHT
Further, Aviation Academy contributes to several targeted, promising research initiatives, such as the Dutch Electric Aviation Centre (DEAC): a national research centre set up to promote electric flight. The initiative is a collaboration between Delft University of Technology, Deltion College and the AUAS. As a part of our work at DEAC, the research group will also be applying its expertise in the maintenance of electrical aircraft in partnership with the University of Twente.
LINK BETWEEN RESEARCH AND EDUCATION
Finally, a big challenge is to bridge the gap between research and education; this is already reflected in the Aviation Engineering honours programme, the Maintenance, Repair & Overhaul (MRO) specialisation, and the Advanced Maintenance Technologies Studio graduations. We're currently working towards a more effective, coherent and manageable curriculum. Further, we integrate our research results in order to help students further develop their professional and personal talents.
dr. K. Stamoulis (Konstantinos)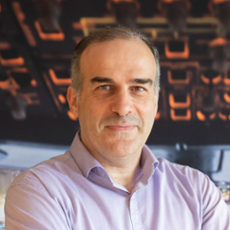 Lector Aviation Engineering
Tel: 0621155138
k.stamoulis@hva.nl
Bekijk profiel