HvA Filmclub #2 🎬 Paris is Burning
In collaboration with AMFI D&I
Evenement

Film lovers united! Sit back, grab a drink & some popcorn...and enjoy. FLOOR has its own film club. Every two months we select a beautiful, exciting or eye-opening film and watch it together. After the screening we have a short talk about it.
Paris is Burning
For the second edition of the HvA Filmclub we teamed up with the Diversity and Inclusion team of AMFI and selected the iconic documentary Paris is Burning (1991). This film classic provides a vibrant snapshot of the 1980s through the eyes of New York City's African American and Latinx Harlem drag-ball scene. Paris Is Burning offers an intimate portrait of rival "houses," from fierce contests for trophies to house mothers offering sustenance in a world rampant with homophobia, transphobia, racism, AIDS, and poverty. Featuring legendary voguers, drag queens, and trans women - including Willi Ninja, Pepper LaBeija, Dorian Corey, and Venus Xtravaganza - "Paris Is Burning" brings it, celebrating the joy of movement, the force of eloquence, and the draw of community.
Planning
15:45-16:00 Doors open
16:00-17:20 Screening Paris is Burning
17:20-18:00 Aftertalk + Q&A met Dizzy Vineyard
After talk
For the after talk we invited Dizzy Vineyard from the current ballroom scene in Amsterdam. House of Vineyard is the first and pioneering house of the Dutch Ballroom Scene. This house was created by Mother Amber Vineyard to spread empowerment and fearlessness for those who don't fit into societies expectations of beauty, gender, and sexual expression while giving permission to challenge these notions, explore the 'in between' while celebrating it.
During the after talk we want to translate the film to the here and now and explore what makes this community so unique. There will be an opportunity to ask questions as well.
Good to know: all FLOOR events are for free.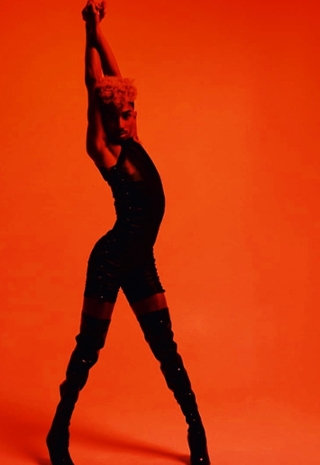 About Dizzy Vineyard (Dizencio)
Dizzy is a young adult artist & entrepreneur. Acting, dancing and voguing are the occupations that fall under their umbrella-term 'artist'. The Dutch Ballroom Community is a very important power source in Dizzy's life. A place that can be experienced as elusive, is for him a place of homecoming and a source of life energy. Unloading & at the same time fulfilling, healing & tantalizing is how the four invisible walls created for and by queer BIPOC work their magic inside the safer space that is called Ballroom.