Film screening Icarus Balance
ENG | Including a short aftertalk
Evenement

On May 10, we host a special screening of the movie Icarus Balance at Kriterion. Icarus and his father Daedalus wanted to escape from the island of Crete, using wings made from feathers and wax. You cannot fly too close to the sea, Daedalus warned Icarus, because that will make your wings humid and heavy. But fly too close to the sun, and your wings will melt.

In Icarus Balance, Daedalus guides us on a journey along the edges of the Mediterranean. Moroccan fishermen take us out to sea. A biologist warns that global warming is threatening marine life. Tourists arrive on a cruise ship by day. A migrant boat is rescued at night. Young men in Tangier tell us why they want to emigrate. A man shows mountains of life jackets, washed ashore on the beach. Migrant workers pick tomatoes for Dutch and German supermarkets, barely earning a living. And in Moria refugee camp, people get sick from a lack of hygiene. Are we keeping our balance? Or are our wings melting?

After the screening we host an aftertalk with Catherine Lord and Mischa Dols. The audience is invited to talk along. Gabrielle Aguilar is the moderator for this event.
Program
18:30 - 18:45 Attendee arrival
18:45 - 18:50 Short introduction to film by UvA Green Office
18:50 - 20:30 Film screening - 90 minutes duration with a 10 minute buffer
20:30 - 21:15 Post-screening discussion and live Q&A
21:15 - 21:30 Event close
About Catherine Lord
Dr. Catherine Lord is a scholar and writer, currently focusing on the interdisciplinary links between environmental humanities, psychoanalysis and feminism. Her book and artistic projects explore the possibilities and limits of environmental mourning.
One strand of her research is practice-based and is devoted to theatre-making and acting. Between 2016 and 2021, she collaborated as an actor with the filmmaker, visual artist and scholar Michelle Williams Gamaker. Two of the collaborations The Eternal Return (2019/2020) and The Fruit is there to be Eaten (2017/2018) won the London Film 2020 Derek Jarman award. As a theatre-maker, Catherine Lord is developing a project about how human subjectivity fantasizes and constructs the "more-than-human' world.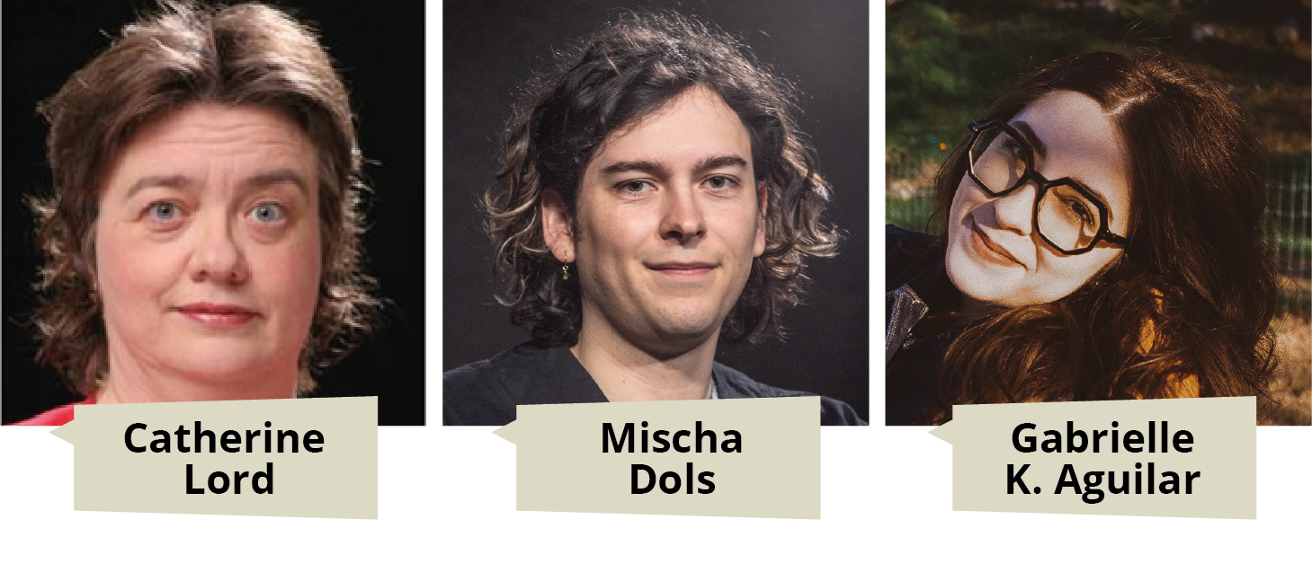 About Mischa Dols
Born in Amsterdam in 1996, Mischa Dols has been making films since he was a kid. After working in the Dutch film industry for several years, Mischa moved to Brussels in 2017 to attend the LUCA School of Arts (Sint-Lukas). Now in Brussels, he has been exploring the art side of cinema, making short films and installations. In 2019 Mischa was granted a fine arts fellowship at the Korea National University of Arts in Seoul, where he developed a broader, intermedia approach to filmmaking during a 5-month stay. Now in the master's program at LUCA, Mischa is spending the year having as much fun with filmmaking as possible.
About Gabrielle K. Aguilar
Gabrielle K. Aguilar is a New Media & Digital Culture researcher at the University of Amsterdam. Her academic interests span across media studies and environmental humanities to consider how media technologies facilitate our conceptions of the natural world. Gabrielle is a part of the Planet in Focus Environmental Film Festival staff and acts as the current Head of Research & Education at the UvA Green Office where she is responsible for building and maintaining an active interdisciplinary research community. At this event, Gabrielle will do a short interview with Sabine Niederer.
Film Credits
Regie: Patric Jean
Producent: Isabelle Truc
Jaar: 2021
Lengte: 90 minuten
Type: Documentary
Language: French, Italian, Arabic en Greek spoken
Subtitles: English
This event is an initiative of Green Office UvA.