Social Work Summer School
Social work and cooperation: two of a kind?
Collaboration, alliances, partnerships, and many other forms of cooperation are key practices in social work. However, these practices of cooperation involve complexity and ambiguity. During this summer school we will be developing a broad understanding of cooperation and various related issues.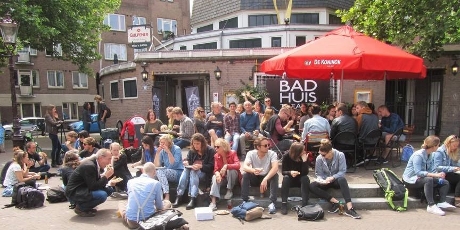 The general aim of this summer school is to start a collaborative and joint process of exchange and discussion on cooperation with clients, informal networks, other disciplines and policy making bodies.
Studying professionals (Ba-Ma-PhD), lecturers, researchers and experienced professionals are invited to submit a proposal related to the key questions. Besides your contribution, you can, of course, participate during the whole week of the summer school.
Submit a proposal
The guidelines and requirements for presentations or workshops are described in the call for proposals. If you missed the deadline, please contact Mike de Kreek at m.de.kreek@hva.nl. We still have room for some more workshops!
You can also participate in the summer school without a proposal and collaborate on the assignment formulated by your university during the week. Together we hope to form a learning community for a week, making cooperation not only what we talk about, but also what we practice. If you want to register, please contact Mike de Kreek at m.de.kreek@hva.nl.
In terms of social work theory, you will become acquainted with international differences between welfare states and their local challenges with respect to cooperation within social work.
With respect to relevant interventions in contexts of cooperation you will meet a range of examples both from practice and from research.
The confrontation with other countries' approaches to challenges of cooperation often invokes a rediscovery of and a reflection on the rationale behind your own countries' regional or local approach.
In the mornings, first there are lectures on the four main themes by keynote speakers. Each theme will be elaborated in parallel workshops and presentations by students, researchers and professionals later in the morning and after lunch.
Participating students will work in the afternoons on an assignment formulated by their universities. These assignments are embedded in the opening meeting on Monday and closing session on Friday.
A guided tour to various social work organizations is part of the larger social program which will also include a number of informal meetings with food and drinks.
There is a wide variety of housing arrangements you can make: through airBnB, friends or relatives, in youth hostels or through international student boards. But, be aware that summer is a busy time so make sure you book well in advance. Don't wait too long before making the arrangement, in this case it's often 'first come, first serve'.
Some options:
Youth hostels:
shelter.nl (Christian hostel)