Climate is still changing
ENG | A lecture by John van Boxel
Evenement

In Paris the world leaders decided to limit global warming to 2.0 °C. In order to reach that goal, we need to reach net zero emissions of carbon dioxide in 2055. Many techniques already are available where others still need to be developed. HvA and UvA are already using some of these techniques and will apply more in the future. Alternative ways to produce energy are used more and more but we need to change more rapidly in order to reach net zero emissions in 2055.

Important organizations like the United Nations, NASA and the AMS (American Meteorological Organization), the IPCC and many others have confirmed that climate change is happening and caused by humans. Climate models have shown that greenhouse gases are the main cause of 20th century warming. This can also be shown with relatively simple statistical techniques.

Global warming is not evenly distributed over the planet and climate change also affects other parameters, like precipitation, storms, melting of glaciers and ice sheet, sea level rise, and more. The most serious effect of climate change, however, are not from the change in the mean values, but in the change in extremes, like heatwaves, drought, extreme precipitation, flooding, storms, hurricanes, tornados, and more.

Many questions about climate change are answered in a joint publication of British Royal Society and the US National Academy of Sciences (2020) titled "Climate Change Evidence & Causes, Update 2020". But uncertainties still remain, not all models produce identical results. However, maybe the main problem is that we do not know future emissions.
Time schedule
15:45 - 16:00 Walk-in at Science Park Amsterdam
16:00 - 16:05 Introduction
16:05 - 16:25 Lecture
16:25 - 16:40 Interview
16:40 - 17:00 Questions from the audience
Location
Science Park 904, Amsterdam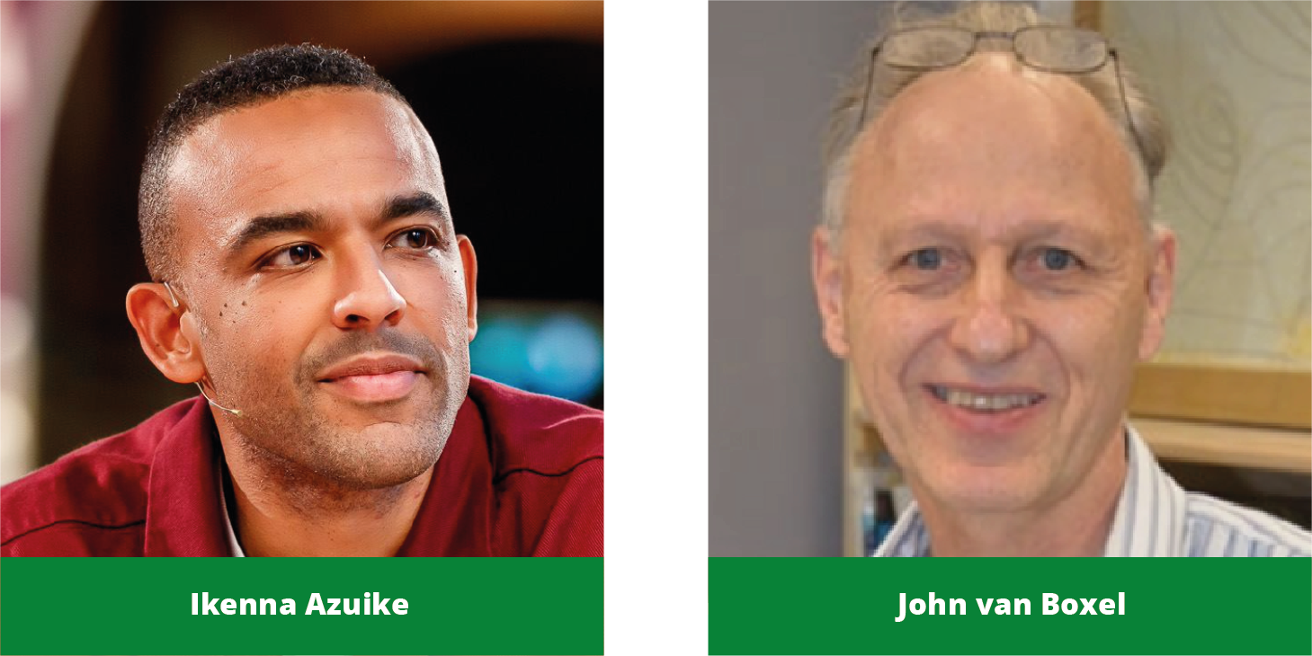 About John van Boxel
John's teaching is mainly related to meteorology, climatology and climate change at the University of Amsterdam. Click here to read his full profile.
About Ikenna Azuike
Ikenna Azuike started his career as a lawyer, but is now a sought-after journalist, presenter, speaker and filmmaker. Ikenna was born in Lagos, Nigeria, grew up in the UK, studied law in the UK and France and has been living in The Netherlands with his family since 2004.
After working as a lawyer with Shearman & Sterling in London, Singapore and New York, and with Clifford Chance LLP in Amsterdam, he decided to change course and follow his passions for broadcasting and social activism. Together with his wife, Mette te Velde, he co-founded the Strawberry Earth Foundation to fast forward our transition towards a sustainable planet and he created the satirical news show What's Up Africa. His show was subsequently commissioned by the BBC, aired on BBC World News television for 6 seasons, was shortlisted for an Association of International Broadcasters Award, and amassed over half a million followers on social media. Since 2017 Ikenna has worked on a variety of longer form journalistic projects through his own production company Jollof Rice Productions B.V.
For example, he made the 6-part travel series 'Planeet Nigeria' (Planet Nigeria) for BNNVARA; the documentary 'De Post-Racistische Planeet' (The Post-Racist Planet) for VPRO Tegenlicht and he is currently developing a comedy drama with Kaap Holland. In addition to his work as a journalist, Ikenna is also the chairman of The Correspondent Foundation, a foundation launched by the Dutch journalism platform De Correspondent.
Ikenna is regularly invited to host national and international events where he interviews professionally and enthusiastically with his trademark disarming charm and sense of humour. Whether he is talking to politicians and executives or activists and students, and whether the subject matter is humanitarian rights, sustainability, international finance, digital life, or contemporary art, Ikenna is at ease, seeing every conversation as an opportunity to learn something new.